22 Feb

Catalog for the Post-Human

This talk will discuss the concepts and themes behind the multipart, ongoing research project Catalog for the Post-Human, currently on view at the Walker Art Center in the exhibition Designs for Different Futures. 

Catalog for the Post-Human features the products designed by a fictional, near-future company that caters to the acute needs of contingent workers in a more technologically oriented society. We will talk about the process behind some of the objects on display inside the Catalog for the Post-Human vending machine at the Walker and give insights into their new presentation for the upcoming Venice Architecture Biennale in May 2021. The Venice project expands the scale of the work into a trade fair stand, featuring a collection of body-related sculptural works and accompanying animations that will create an immersive experience for the viewer.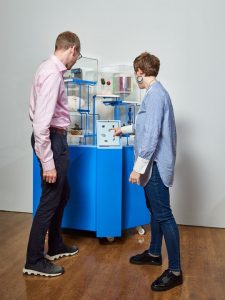 Parsons & Charlesworth is an art and design studio in Chicago that creates objects, exhibits, texts, and images encouraging reflection on the current and future state of our designed culture. Having both studied at the Royal College of Art and moved to Chicago in 2010 to teach at the School of the Art Institute of Chicago founders Tim Parsons and Jessica Charlesworth set up their studio in 2014. As Parsons & Charlesworth they craft glimpses into alternate realities, telling stories with objects and inviting thoughtful questioning of contemporary life. They practice an investigative, research-driven, speculative approach to art and design that uses installation as a means of engaging viewers in critical topics through the use of storytelling. They have exhibited in galleries, museums, institutions, and festivals around the world including the Philadelphia Museum of Art; Museu de Arte, Arquitetura e Tecnologia, Lisbon; Science Gallery Dublin; Chicago Cultural Center; 2nd Istanbul Design Biennial, Turkey, the Museum of Contemporary Art, Chicago, Wanted Design, New York City; and the London Design Festival, among others.
6:00 – 6:10 PM      Introductions
6:10 – 7:00 PM      Talk
7:00 – 7:10 PM      Q&A
Admission is free, but don't forget to register so you can get the Zoom invite.